JOHN ETHERIDGE SOLO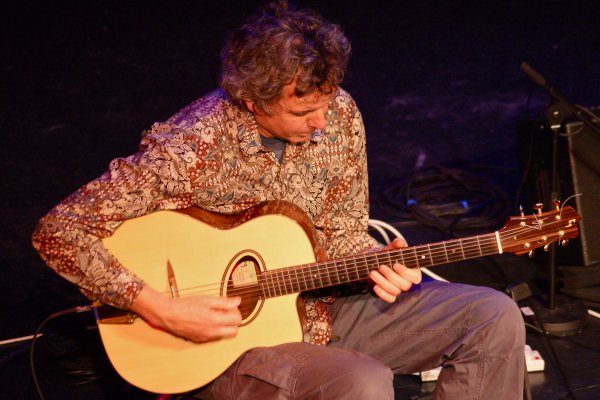 August 27th 2010. The Hub Edinburgh (Edinburgh Festival )
. Etheridge's Saturday solo concert managed to be wonderfully personal and mind-bogglingly varied, ranging from meditative blues to joyful Cameroonian makossa, from electronically created guitar orchestration to acoustic swing and from the intricacies of Sonny Rollins' bop era Doxy to the simple, soulful pleasures of Carol King and Richard Thompson, all linked by equally off the cuff reminiscences and priceless observations.
Rob Adams
2008 CD RELEASE

ALONE! LIVE (DY026)
John Etheridge : Guitars





1. KILLER JOE
2. now's the time
3. blooey
4. SIX LINES
5. goodbye pork pie hat
6. m'sanduza
7. mean to me
8. will you still love me tomorrow
9. doxy
10. STORMY WEATHER
11. the road
12. LITTLE WING
recorded live. 2008



AUDIO CLIPS REQUIRE REAL PLAYER

Price : UK and Europe. £12.99 (inc p+p)

USA/Japan/Rest of World. £15.99 (inc p+p)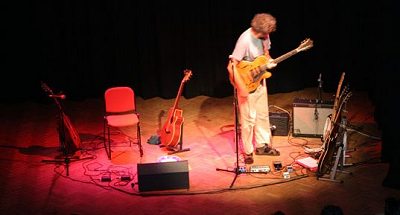 Pizza Express Jazz Club, W1.
Clive Davis. The Times
Some guitarists see a solo recital as the pretext for endless displays of mercurial fingerwork. No chord substitution left unturned, and all that. It's a measure of John Etheridge's talent that a fair proportion of his opening set was devoted to unpretentious, globe-trotting themes that other jazz musicians might have felt slightly beneath their dignity. - Etheridge's gentle cross-rhythms imbued them with genuine dignity. Few of his peers handle an electric instrument with such delicacy. He combines a jazzman's sophistication with a folksy sense of drama. While Pat Metheny may have more harmonic colour in his palette, the Englishman's penchant for simple, unaffected melodic lines makes him ideal company in a venue as intimate as this.
The lilting, circular phrases in the opening sequence found him paying homage to his fellow guitarist the late Francis Bebey, a dominant figure in modern Cameroonian music. Even without the help of a percussion section, Etheridge had no difficulty at all in generating a seductive dance pulse. In more reflective vein, he sketched serene lines across Richard Thompson's The Dimming of the Day, and the programme took a more orthodox, boppish turn with a medium-tempo version of Sonny Rollins's Doxy, underpinned by a sultry walking bass line.

After many years of featuring solo interludes in concerts and on record augmented by the occasional entirely solo performance, John Etheridge has made an album of guitar pieces some formal, some less structured, using a variety of guitars especially fretless and a six string guitar with lowered bass strings, as well as the conventional instrument.
Etheridge has produced a varied and engrossing CD which has already been described by Charles Alexander of Jazzwise as a real winner of an album.
The CD was officially released on June 14th and will be distributed by New Note.
John Etheridge - 'I Didn't Know' (Dyad DY024)
This is the kind of album to make you glad you're not a guitarist. How can anyone achieve this level, not just of skill but of musical inclusiveness? Nothing seems to be beyond Etheridge's grasp. He can spin a simple old spiritual, 'Sometimes I Feel Like a Motherless Child', into four minutes of almost abstract melody, then follow it with an undeniably funky 'Mercy, Mercy, Mercy' and make both sound complete and perfect. Maybe that's why he hasn't yet been hailed as a superstar - there's just too much of him to fit into any known marketing category. This astonishing set of 16 numbers, solo apart from a few discreet overdubs, also exhibits Etheridge the composer, who turns out to be equally impressive. This is one not to miss.
The Observer
I DIDN'T KNOW
John Etheridge - Solo Guitar
Price : UK and Europe. £12.99 (inc p+p)
USA/Japan/Rest of World. £15.99 (inc p+p)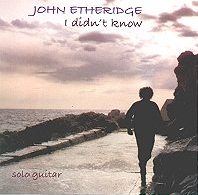 1. Guitar Makossa
2. God Bless The Child
3. I'll Take Les
4. Now's The Time
5. Motherless Child
6. Mercy, Mercy, Mercy
7. Lullaby Of Birdland
8. I Didn't Know
9. My Romance
10.Outline
11. Come Sunday
12. Can't Help Lovin' dat Man
13. Strange Comforts
14. With The Wind
15. Goodbye Pork Pie Hat
16. Swing Low Sweet Chariot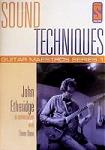 DVD - John Etheridge in conversation with Trevor Dann.
tracks include : Now's The Time - Etouffe - Lullaby Of Birdland - Bardolph - Limehouse Blues - China Boy - Will You Still Love Me Tomorrow - Dimming Of The Day - Obia - Guitar Makossa - Mean To Me - I'll Take Lee - My Romance - Stormy Weather - Gentle Rain - Emigre' / Little Wing (aprox running time 110 mins)
DVD is £15.00 (incl p&p)
SORRY SOLD OUT
BUY FROM SOUND TECHNIQUES
SOUND TECHNIQUES Guitar Maestro Series 1 - encapsulates a combination of new live performaces and intimate conversations revealing the real passion behind these talented musicians. The sound and quality of the series is spectacular and will leave you with a reminder of why these artists will continue to influence so many people world wide. - taken from liner notes
read Guitar Techniques review

John plays 'Guitar Makossa' (video from DVD)


back to top