biography
written by Bill Starling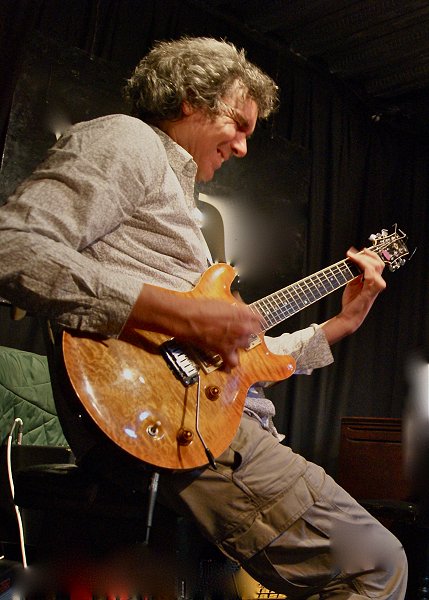 John Etheridge : Guitarist, composer, bandleader, educator

Born : - 12th January 1948, London.

Playing History - Bands and associations: - Rush Release, Icarus, Abednego, Darryl Way's Wolf, Global Village Trucking Company, The Soft Machine, Stephane Grappelli, Second Vision, John Etheridge/Ric Sanders Group, Etheridge/Torff, Dick Heckstall-Smith, Birelli Lagrene, John Etheridge Trio, Elton Dean/John Etheridge Quartet, Danny Thompson's Whatever, Nigel Kennedy, Andy Summers, WEB (Williams, Etheridge, Bebey)

Current : - John Williams (duo), Sweet Chorus, The Soft Machine Legacy, Zappatistas, Blue Spirits, Solo gigs, Guitar workshops, Guitar Festival appearances.

Early Inspiration : - Hank Marvin, Django Reinhardt,Joe Pass , Eric Clapton, Jimi Hendrix, Wes Montgomery, John Maclaughlin .
John Etheridge rightly enjoys a glowing reputation throughout the jazz world and beyond and has been described by Pat Metheny as, "One of the best guitarists in the world". He is a prodigiously gifted and creative player whose approach to music can only be described as 'eclectic' as he refuses to accommodate or even acknowledge artificial musical boundaries. His range is well illustrated by his years of touring and recording with the iconic Stephane Grappelli while simultaneously doing likewise with the legendary jazz-fusion group, The Soft Machine. John is equally at home on acoustic and electric guitar and his willingness to engage with so many styles is matched by his ability to excel in any of them. He has played with John Williams, Yehudi Menuhin, Dizzie Gillespie, Herb Ellis, Mundell Lowe, Nigel Kennedy, Pat Metheny, Birelli Lagrene, Barney Kessel, Vic Juris and countless others. John's ability as an outstanding composer is sometimes overlooked but he is often under pressure from audiences to feature more of his own material.
John's promise was evident even during his earliest days of playing and he received recognition and encouragement from both Jimi Hendrix, whose comment was "You're great", and Eric Clapton, who told him after a gig, "You're not a great blues player but you're a great guitarist." After graduating in the History of Art in 1970 from Essex University and returning to London, John started to get seriously noticed when working in the various bands such as ex-Curved Air violinist Darryl Way's Wolf, an early jazz/rock outfit with whom he recorded three albums. Others included Icarus, Abednigo (which had a woodwind player named John Altman, later to become a famous film director), the short-lived Warhorse and the wonderfully-monikered Global Village Trucking Company. His 1975 leap into the front rank came when he was contacted by The Soft Machine after they had been given his number by the departing Allan Holdsworth.
JE: "The album 'Bundles' was just out, and I started by promoting that. Then we did this great Summer tour with Mahavishnu Orchestra, Soft Machine, Caravan, Climax Blues Band, Wishbone Ash, all together, on this Hercules transport aeroplane, flying at 80 miles an hour - took about 4 hours to fly from Stuttgart to Marseille !... Unfortunately, the whole thing went bankrupt in the middle of it".
The Soft Machine enjoyed legendary status as Europe's premier jazz-fusion exponents and John made a real impression as part of the band. This stage of his playing career is celebrated in the 2006 released DVD 'Guitar Legends' (see other cd's).
It is a measure of both the breadth of John's ability and the recognition and regard he commanded from fellow musicians that less than a year after joining The Soft Machine, the great Diz Disley suggested that he would be Diz's ideal successor to play alongside the stellar jazz violinist and ex-sparring partner of Django Rheinhardt, Stephane Grappelli. When John met up with Stephane (on a borrowed Framus acoustic guitar), he did not consider himself remotely to be a 'Django' player but he knew the repertoire and was a great improviser. He clearly made his mark because he spent the next 6 years touring the world in collaboration with Grappelli in what he describes as one of his happiest times in music; he certainly refers to this period with great affection. So John was playing and recording simultaneously in these two very different set-ups, each at the pinnacle of their very different traditions - an achievement indeed! John played on a number of recordings with Stephane including two which featured the peerless classical violinist, Yehudi Menuhin.
Incidentally, while with Grappelli, John played a vital role in helping launch the career of another noted British guitarist when he introduced a certain Martin Taylor into Stephane's band.
Through the eighties and nineties, John could be found honing his craft and extending his range even further with collaborations with the likes of Vic Juris and Dick Heckstall-Smith. In the late seventies and early eighties he played a series of solo concerts in Australia (where he was given an early Smallman acoustic guitar by its admiring maker) and went on to play duo dates in the USA with bass-player Brian Torff with whom he had worked in the Grappelli band. During 1985, Etheridge worked with fellow guitarist Gary Boyle in both duo and quartet setups. Between '89 and '93 he then toured with Whatever led by the ubiquitous ex-Pentangle bass-player Danny Thompson and joined luminaries such as Alan Skidmore, Stan Tracey and Henry Lowther on the 1990 album Elemental. Around this time John was also working frequently with Elton Dean as the Elton Dean/John Etheridge Quartet with a rhythm section comprising of Fred Baker and Mark Fletcher on bass and drums respectively. The great Manouche guitarist, Birelli Lagrene was another touring partner in what was a gypsy jazz feast for their audiences.
John's theme of working with the cream of violinists was to continue when he played with Didier Lockwood, featuring on his first album, New World, as part of an all-star line-up including Gordon Beck (piano), Tony Williams (drums) and Niels-Henning Ørsted-Pedersen (bass). With Ric Sanders he then formed the band Second Vision and recorded the eponymous album. From 1993 John toured extensively with Nigel Kennedy and was featured on the 1996 album 'Kafka'. 1994 saw John joining his long-time friend and ex-Police guitarist Andy Summers for a world tour and they released the album 'Invisible Threads' as a duo. Here is a great quote from an ex-colleague of Andy's: -
"I never wanted to be a star, just a highly respected musician like John Etheridge" Sting (The Guardian 1981)
The Etheridge schedule is busy, some would say frenetic, and it includes work with a number of regular accomplices; his 'hot club' style band 'Sweet Chorus', is a personal homage to Grappelli and takes the gypsy jazz form to new and inspiring places – a superb rhythm section of Dave Kelbie (guitar) and Malcolm Creese (bass) with JE and the sublime violinist Christian Garrick swapping solos make this a band not to be missed. The Soft Machine Legacy was made up of members of the original band (John Marshall, Hugh Hopper - John himself was with the band from 1975) until the unfortunate passing in 2006 of Elton Dean who has been succeeded by Theo Travis. The new band retain all that made The Soft Machine one of the most important fusion bands ever while bringing a freshness and new vitality that just adds to the legacy. Then there is 'The Zappatistas', an exhilarating eight-piece line-up playing the music of the irreplaceable Frank Zappa with John excelling in the great man's role and co-leading the band. There are regular performances with innumerable fellow 'greats' of the jazz world, with other noted guitarists from a range of genres, with Pete Whittaker, Mike Pickering and Julian Siegal in 'Blue Spirits'; the list just goes on…….
In July 2006, John began touring a great new programme in a duo set-up with John Williams, the most celebrated classical guitarist of this generation. The two Johns have worked together before, most notably on their interpretations of African music with Francis Bebey, Richard Harvey, Chris Laurence and Paul Clarvis and documented on the CD 'The Magic Box'. John Williams had always retained a desire to explore further the enticing combination of classical and steel-string guitar and got back in contact with John to realise this ambition. The result is stunning! John Williams rightly describes this pairing of classical and steel-string as a 'first' even though he hates that term. Musically, the project dips again into the wellspring of the great African influences but it offers so much more including a sensational and technically demanding suite, newly composed for the two Johns by the American composer and guitarist, Benjamin Verdery. The programme was recorded live at the Dublin International Guitar Festival and is scheduled for release by Sony in October 2006. The tour continues into 2007 with dates across the US and elsewhere.
The coming together of these two great players is a genuine musical milestone, not just in their performance but also in their instruments. When John was looking for the 'right' acoustic guitar, the legendary Oregon-based luthier and dyed-in-the-wool Etheridge fan, Charles Fox, offered him the 'ergo noir', an innovative and groundbreaking instrument that was described in the prestigious Vintage Guitar magazine as 'a guitar that has redefined the acoustic steel-string…….one of the first notable lutherie achievements of the new millennium'. Fitting then, that the European debut of the ergo should be onstage alongside the equally revolutionary Smallman classical guitar that John Williams adopted in the early eighties. Williams' fellow-Australian Greg Smallman had then devised and constructed an epoch-defining instrument which changed the design paradigm for classical guitars. Now, with John Etheridge's enthusiastic adoption of the ergo, its steel-string equivalent has found its way to this meeting of guitar greats.
A measure of the universal respect for John's accomplishment and skill was his nomination as one of just three finalists for the highly prestigious award for the 2006 Jazz Musician of the Year, presented on May 10th at the Parliamentary Jazz Awards ceremony at the House of Commons.
In 2007 Williams and Etheridge undertook a months tour of the USA ,which was followed in 2008 by a tour of Australia and New Zealand. The duo continue to play concerts in England and Europe and another U S tour is mooted for 2013.
Last year saw John appear- alongside Richard Thompson, James Burton and others at a guitar night at the South Bank as part of the Meltdown Festival, play 2 nights at the Edinburgh International Festival (the first time Jazz had been included in the main Festival),and perform 5 times at the London Jazz Festival, in various formats, as part of a celebration of his 40 years in "Showbiz".
A yearly highlight is a week's engagement at the Pizza Express - featuring a stellar cast of guests.
Etheridge has also been active on the Radio - appearing 6 times as a guest on Radio 3's Jazz Library series with Alyn Shipton, presenting programmes on Django, Joe Pass, Wes Montgomery, Charlie Christian, Barney Kessel and most recently Gypsy guitars post-Reinhardt.
He is also a regular guest on Jazz Line-up -most recently a live duo set from the Bath Festival with pianist John Horler, and is often a guest on Radio3's In Tune programme.
John contributed to 2 Episodes of the BBC 1 'Imagine' series on the Guitar (2009)
JOHN ETHERIDGE - AN APPRECIATION by Bill Starling
John Etheridge is not just another great guitarist, he is a master of the instrument and he knows how to use it to best effect in an enormous range of settings. He is fast, a great chord man, inventive but subtle, as good with a pick as finger style, as at home on acoustic as on electric guitar. Critically, he knows what to leave out, when to use nuance and suspense and when to let rip. Taste and talent are the indisputable hallmarks of this incredibly accomplished and well-rounded musician who reads, and responds to his fellow musicians and his audience equally well.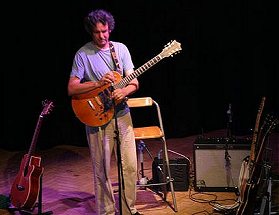 Let me try and give you a flavour of a solo gig: John will kind of wander on stage, as if slightly puzzled by what he finds there but he soon settles his array of guitars around him and begins sharing himself, his warmth and his considerable talent with his audience.
Numbers will have long and engaging, seemingly rambling introductions, some built upon anecdotes and reminiscences of old colleagues, some inspired by the venue or some small item in the news – but all full of wit and wordplay. Stories of his days on the road with Stephane Grappelli will be delivered in John's trademark French accent, you'll swear you can smell the pastis, and you'll feel the admiration and affection he holds for the great man. John will change his programme on a whim or in response to a call for a favourite. Sometimes he'll strap on one guitar, then slip it off to install another in its place while he potters around the space that he simultaneously commands and shares so generously. There are few more enjoyable sights than watching John joking with his audience, arms resting across his old Yamaha, grin beaming across his face.
People who attend his gigs know how routinely generous he is. He'll be there after the performance, signing CDs, chatting amiably, sharing a joke and laughing with them. The shyest of his fans will have no difficulty approaching him because they can see that he is unaffected by his talent and utterly devoid of conceit of any kind, probably moreso than anyone else I know.
This approachability also helps make John the great teacher and mentor that he is. His workshops and masterclasses are always in demand, providing fun and great experiences for the students. John is delighted to share all the considerable gifts he possesses.
So, that's John Etheridge the musician. But what of the man? I'm proud to be able to call him a friend and I know him to be a complex, thoughtful, intelligent, erudite, warm and incredibly open human being. When being interviewed during a live recital with John Williams on BBC Radio Three earlier this year, John E was asked about his relationship with Stephane Grappelli. He characterised Stephane as a great man and very down to earth, encapsulating his assessment in the single, made-for-the-moment word, 'unsolemn'. I could think of no better description for John himself!
back to top