JOHN ETHERIDGE - CHRIS GARRICK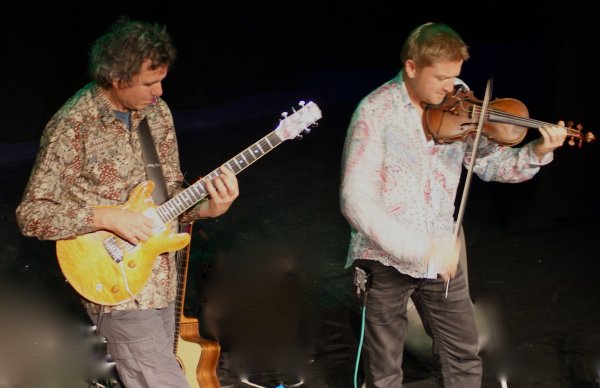 John and Chris Garrick have been associated for many years -starting with the Sweet Chorus project and concurrently in duo.
Their first album was "Dimming of the Day " (see reviews below) and now comes the second offering "Men on Wire".
The duo provides a feast of interplay ,improvisation and eclectic repertoire .Both players make extensive use of looping and other effects-creating exotic tapestries of sound,almost orchestral at times, yet can seamlessly switch to the most acoustic sound. They can evoke Reinhardt and Grappelli and then summon up the spirits of the electric avant-garde, atmospheric and hypnotic.They can roar, seduce, whisper. Jazzwise described their relationship as "one of the most potent in European Jazz" .
1. Paper Bag
2. Mona Lisa
3. Twefth Of Never *
4. Undecided
5. Fire & Rain
6. River *
7. Cinema Paradiso : Love Theme
8. Skylark
9. Philadelphia
10. Think It's Going To Rain Today *
11. In A Sentimental Mood
12. Filoeds Of Gold
11. Heysatan
Price : UK and Europe. £12.99 (inc p+p)

USA/Japan/Rest of World. £15.99 (inc p+p)

2013 Release

CHRIS GARRICK/JOHN ETHERIDGE
- When The World Stopped For Snow (FLY8)
"a collection of our favourite ballads"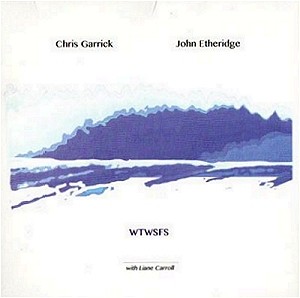 Chris Garrick : violin / John Etheridge : guitars
Lianne Carroll : voice*
Chris and John with their own arrangements of compositions by Alison Goldfrapp, Ewan MacColl, James Taylor, Joni Mitchell, Ennio Morricone, Hoagy Charmichael, Neil Young, Randy Newman, Duke Ellington etc
You will hear hipper, more radical ande certainly ouder releases this year. But if you're wise enough to buy this elegantly packaged release, I doubt there's a purchase you'll play more. The third release from this esteemed duo, the concept couldn't be simpler. It's a collection of their favourite ballads, many of which will be yours too, from the clkassic 'Mona Lisa', 'In A Sentimental Mood' - to those that may surprise - a sombre 'Paper Bag' (a Goldfrapp goodie) or Sigur Ros' lyrical 'Heysatan'. The mood restyrained, intimat, but never cloying, even on chestnuts like 'SkyLark', which gets a flash of Vaughan-Williams-meets-Grappelli in the intro. Instead, Etheridge and Garrick apply the golden rule of standards and let the melody do the talking. So a timeless tune like 'The First Time Ever I Saw Her Face' is sifted to an essence that is almost painfully naked, with Garrick playing with unadorned yearning. Even Caroll, much loved but not generally known for her emotional containment, keeps a tight rap on 'River' while her bittersweet, almost whispered 'Think It's Going To Rain Today' is simultaneously plain and gorgeous. But, hey don't take my word for it, just go and listen.
Andy Robson. Jazzwise. August, 2013.
1.
MERCY STREET
2. Mbunduza
3.
ALFIE
4. Undecided
5.
GRAN TORINO
6. Blue Moon
7. James
8. Spring Can Really Hang You Up The Most
9.
THE LITTLE WONDER
10. Lets Fall I*n Love
11. Men Of Wire
12. Love Of My Life
AUDIO CLIPS REQUIRE
REAL PLAYER
Price : UK and Europe. £12.99 (inc p+p)
SORRY SOLD OUT
CHRIS GARRICK/JOHN ETHERIDGE - MEN OF WIRE (FLY06)
Chris Garrick : violin / John Etheridge : Guitars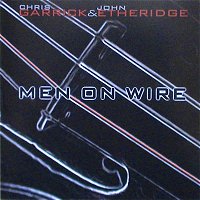 live review : Chris Howes
IN 15th century Eltham, at the Great Hall of the Palace, royal guests would doubtless have been entertained by the sound of lutes and viols.
Last weekend, in what is now a People's Palace, the modern equivalents of those instruments were heard in a joyous performance.
The magical music came from the inspired duo of guitarist John Etheridge and violinist Chris Garrick.
Etheridge is celebrating his 40th year as a professional musician and, somehow, he's managed to be at the forefront of jazz and 'jazz-connected' music at all times. Many in the audience would have remembered Etheridge coming to public notice in the 1970s as part of the jazz fusion band Soft Machine.
This concert was part of the two week long London Jazz Festival and the duo's musical mix demonstrated jazz is just as much a hybrid music now as it was in its birth pangs of the 1890s.
They began with Mercy Street by Peter Gabriel, an old school pal of Etheridge's, followed with the Sonny Rollins tune Pent-up House, then moved seamlesssly to a piece from William Walton's film score for Henry V.
And so it continued. For all that the cavernous Great Hall lacked in atmosphere, the two players combatted with their musically adventurous spirit - completely sure of each other, yet still able to sparkle and surprise.
There were some musical memories of Etheridge's years working with French violinist Stephane Grappelli and a resultant moment of homage to Django Reinhardt with a closing abstract playing of his masterwork, Nuages.
If you weren't there, you can hear much of the music on the latest Garrick and Etheridge CD entitled Men on Wire from Flying Blue Whale Records.

Dave Gelly. The Observer. wrote:
Thirteen violin-and-guitar duets may not sound like an exciting proposition, but this is a most remarkable album. The range of expression, originality of ideas and boldness of execution puts it in a class of its own. Etheridge has been called 'one of the best guitarists in the world ' by no less a figure than Pat Metheny, and on this showing that's the plain truth. Garrick, a former prodigy, can swing with the best of them, but there's also warmth, lyricism and a lot of wit. The programme is inspired, too, with themes by everyone from Duke Ellington to William Walton, by way of Ennio Morricone.
Northern Echo wrote:
Virtuoso performances here from two extremely talented performers performing on a variety of violins and guitars. Jazz is just one part of this wide ranging set which includes folk, classical and many other influences. It's simply stunning at times.
Birmingham Post wrote:
Etheridge is a guitarist for all seasons and all situations - whether reworking Frank Zappa or paying homage to Django Reinhardt.
Garrick is a violinist with a thoroughly personal voice on the instrument and the technique to be able to express it eloquently.
Together they work their way through a range of music from the majestic English folk of Richard Thompson's title track, to the delicacy of film themes from both William Walton and Ennio Morricone, the traditional Londonderry Air, some Astor Piazzola from his southern hemisphere answer to Vivaldi's Four Seasons and, of course, a couple of Hot Club of France tunes. Garrick.. a sensitive melodic touch and a wide range of timbre and emotional resonance. Etheridge, of course, delights on every level.
AT THE DIMMING OF THE DAY
Chris Garrick : violin / John Etheridge : various guitars






1. Dimming Of The Day
2. Touch Her Soft Lips And Part
3. CINEMA PARADISO
4. Londonderry Air
5. I'LL NEVER BE THE SAME
6. Invierno Porteño
7. THE GENTLE RAIN
8. Stormy Weather
9. LOVE ME TENDER
10. Don't Worry About Me
11. Come Sunday
12. Absinthe Minded
13. Tenessee Waltz

SORRY SOLD OUT
Secure on line ordering worldwide with PAYPAL CD's are £12.00 (incl p&p).

back to top