"The two Johns delivered a dazzling display that travelled from Bach,through Vivaldi and Django Reinhardt". New Zealand Herald
JOHN WILLIAMS - JOHN ETHERIDGE
Williams - Etheridge bookings - contact Melanie.Moult@askonasholt.co.uk
John Etheridge/ John Williams at Pizza Express **** (4 stars) August 09
Clive Davis
Fusing world music, jazz and folk with a soupcon of Bach, this was an enchanting conversation between two masters
Even when he is not playing John Etheridge makes delightful company. Whether mimicking a Radio 3 presenter or musing over the legacy of the late Les Paul, the guitarist turns his Soho residencies into the most intimate of gatherings.
Not surprisingly, the room was jammed full for his latest encounter with the classical virtuoso John Williams. For some reason Places Between, the live album released by Sony Classical a few years ago, did not receive the attention it deserved. Fusing world music, jazz and folk with a soupcon of Bach, it was an enchanting conversation between two masters from two very different traditions.
Some of the material cropped up in their opening night — part of a seven-night run by Etheridge that also featured his limpid Django-Grappelli band, Sweet Chorus. The centrepiece of the first set, though, was Ludwig's Horse, an extended new work by Paul Hart which took polite liberties with a Beethoven theme. If the demure contours favoured Williams's classical rigour, Etheridge made the most of the openings that came his way.
There was more of a rhythmic edge to Malinke Guitars, the phrasing evoking the spartan qualities of the kora. Throughout the evening Williams supplied delicate asides while Etheridge gently probed for improvisational possibilities. He opened up the throttle at the beginning of the second set as he switched to solid-body guitar for a solo sequence that included his exceptionally spacious treatment of Mingus's Goodbye, Pork Pie Hat.
Electronic effects broadened his palette, and by the time he had moved on to the funky riffs of Green Onions he had conjured up his own miniature rhythm section. After Williams delivered his own unaccompanied performance on a collection of tunes, which included a homage to the Cameroonian musician Francis Bebey, the two men signed off with Extra Time, their ingenious reworking of a prelude from Well-Tempered Clavier.
the association of Etheridge - Williams
John Etheridge and legendary classical guitarist John Williams goes back some 10 years to the formation of the "Magic Box" group which also featured Paul Clarvis, Chris Laurence and multi-instrumentalist Richard Harvey. This group toured for 3 years and made a cd for Sony records, a highlight was an appearance at the Proms. The next association was a short-lived trio WEB - Williams, Etheridge, Bebey. Bebey is the African Percussionist, pianist and singer son of renowned Cameroonian composer Francis Bebey.
Finally Etheridge and Williams decided to go out as a duo-making their concert debut at the National Theatre in Dublin,where they were recorded for Sony Records cd "Live in Dublin".
Since then they have made 2 tours of USA-appearing at Carnegie Hall Recital Room, Chicago Symphony Hall, Seattle's Bene Royal Hall and other top venues.
2008 saw them in Australia and New Zealand,appearing at Sydney Opera House and Hamer Hall Melbourne, Auckland Town Hall and the other big centres.
In Europe they have played Amsterdam,s legendary Concertgebouw,the Cologne Philharmonic, the Montpelier Festival and many wonderful venues in Europe and England .
The two John's play an eclectic mix that illuminates their highly different skills -complementing each other and bringing to the table a vast wealth of musical experience across the genres.
Recorded in July at the Dublin International Guitar Festival, this new live album from guitarists Williams and Etheridge is an effervescent jewel box of colour. It embraces everything from the West African makossa 'Sangara' by Cameroonian-born composer, singer and multi instrumentalist Francis Babey to the baroque stylings of 'Slow Dub', by way of a meditative reading of the delightful 'La Ultima Cancion by the great Paraguayan guitarist-composer Augustin Barrios Mangore. Other highlights include the high octane 'Extra Time' which segues seamlessly from a Bach-inspired opening to the intricate rhythms of it's minimalist conclusion, the dazzling interplay of Malinke Guitars in which the duo sound at their most Kora like, the three movement 'Peace, Love and Guitars' by Ben Verdery and the haunting simplicity of Mitopia by the Madagascan composer Rossy.
Etheridge contributes a brace of tunes, the evocative and harmonically dexterous ballad 'Strange Comforts' plus the Gallic flavoured waltz 'Places Between'
Peter Quinn
read Jazzwise review
LIVE IN DUBLIN - PLACES BETWEEN
John Williams - Guitar / John Etheridge - Guitar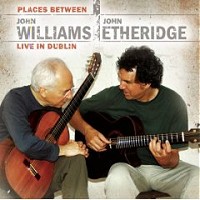 Now available from Amazon.co.uk (uk only).
BUY NOW
See
amazon.com
for overseas ordering.
released on : Sony Classical
available in shops
back to top