Soft Machine Legacy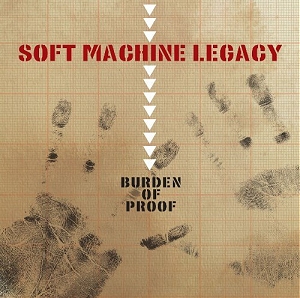 Burden Of Proof
latest release by Soft Machine Legacy
Released on MoonJune.
JOHN ETHERIDGE: electric guitar
ROY BABBINGTON: bass guitar
JOHN MARSHALL: drums and percussion
THEO TRAVIS: tenor sax, flute, fender rhodes piano

Recorded by Beppe Crovella, at Electromantic Synergy Studio, San Sabastiano da Po, Italy; August, 2012.
Mixed and mastered by Andrew Tulloch, at The Blue Room, London; December, 2012 through January, 2013.
Produced by Soft Machine Legacy.
Executive Producer: Leonardo Pavkovic

track listing
1. Burden Of Proof (John Etheridge)
2. Voyage Beyond Seven (Theo Travis)
3. Kitto (John Etheridge)
4. Pie Chart (John Etheridge)
5. JSP (John Marshall)
6. Kings & Queens (Hugh Hopper)
7. Fallout (Theo Travis)
8. Going Somewhere Canorous? (Babbington / Marshall)
9. Black And Crimson (Theo Travis)
10. The Brief (Marshall / Travis)
11. Pump Room (John Etheridge)
12. Green Cubes (Babbington / Etheridge / Marshall / Travis)
13. The Landed On A Hill (Etheridge / Travis)
Price : UK and Europe. £12.99 (inc p+p)

USA/Japan/Rest of World. £13.99 (inc p+p)

Or play tracks and order from
MOONJUNE.COM
"Burden of Proof is, to put it mildly, absolutely exquisite. These are four musicians who are masters of their craft, and truly at the top of their game, not only as soloists but as contributors in an actual band. They've put together here a collection of songs that basically has something for everyone; challenging jazz-fusion, adventurous prog-rock, bits of chaotic free-jazz, atmospheric instrumental pop-jazz, and even a little hard rock. Extraordinary!"
5 stars . Pete Pardo. Sea Of Tranquility.org
Having retired to weigh up the evidence, the jury had been out for all of five minutes when it returned the verdict that the burden of proof is conclusively indicative of a resounding guilty; guilty of making probably the finest progressive jazz-fusion record you will hear this year.
In fact, Soft Machine Legacy speak in an all-encompassing musical language that goes well beyond pigeonholing, and with Burden Of Proof they have moved on from Steam to become a fully integrated unit with a near psychic understanding of the collective muse. I can say with some confidence that if you are a lover of progressive music you should definitely buy this now!
9 out of 10. Roger Trenwith. dprp.net
Despite its monicker, Soft Machine Legacy is not a tribute project or an attempt to recreate the music of the 1970s. The music here is fresh, risky, and full of life. If Burden of Proof proves anything, it's that the spirit of exploration in music remains alive and well. Fittingly so, because that's what Soft Machine was all about in the first place.
Dave Wayne. All About Jazz
"Etheridge plays with a biting slightly smoldering tone evoking pre-Mahavishnu John McLaughlin. Travis has a fluid surging wail out of Coltrane, Rollins, and Joe Henderson and the bass and drums team is tight and propulsive as as you're likely to hear this year".
4 stars. Mark Keresman, Icon Magazine.
"This album, entitled "Burden Of Proof", hits me the hardest. It's so real. Soft Machine Legacy create glorious music. the jazz group sound like they're desperate to get their message across".
John Shelton Ivany, jsitop21.com

Full concert of Soft Machine Legacy
Frankfurt Jazz Festival (26.10.2012), featuring special guest Keith Tippett.


John Etheridge - Theo Travis - Roy Babbington - John Marshall
" Soft Machine Legacy" was launched in Turkey in Oct, 2004. The intriguing line-up of Elton Dean, Hugh Hopper, John Etheridge and John Marshall was a coalition of 4 long-time servers in different eras of the legendary group Soft Machine, but who had not played before as a unit. With the enthusiastic management of MoonJune in New York - the band quickly established a recording an touring schedule in Europe playing a repertoire of new originals and some vintage pieces. Highlights including appearances at the Umbria Jazz Festival and Leverkusen Jazz Festival (televised).
In 2006 came the sad death of Elton Dean, whose place was taken by young blood Theo Travis, who has a continuing association with Gong and was thus perfectly sympathetic to the music.
After a long illness Hugh Hopper sadly passed away in 2008. A decision was taken to continue with Roy Babbington - thus reuniting 3/5ths of the 1975-77 line up that recorded the acclaimed "Softs" album. (special thanks to Fred Baker who deputised when Hugh was ill).
This is The Soft Machine Legacy as it appears now, having completed a month long tour of Europe in Oct 2009, from which ' Live Adventures ' has been recorded. 2010 will also see the reissue of the Soft Machine albums on EMI, Harvest-Bundles, Softs, Alive and Well. Land of Cockayne
2010 RELEASE
'
LIVE ADVENTURES
'
Has Riff 2
Grapehound
The Nodder
In The Back Room
Song Of Aeolus
The Relegation Of Pluto / Transit
Gesolreut
Face Lift
The Last Day
JOHN ETHERIDGE electric guitar; THEO TRAVIS tenor & soprano sax, flute;
ROY BABBINGTON bass guitar; JOHN MARSHALL drums.
recorded live by Peter Hartl, Posthof, Linz Austria
and by Fabian Gierscher, The Village, Habach, Germany
October 2009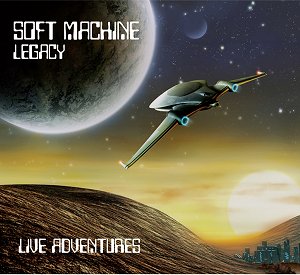 Price : UK and Europe. £12.99 (inc p+p)


USA/Japan/Rest of World. £15.99 (inc p+p)

cat no : MJR036
review : seaoftranquility.org
'
LIVE ADVENTURES
*****
Recorded at two successive nights on October of 2009 (one night in Austria, the other in Germany), Live Adventures once again sees a revamped Soft Machine Legacy after the passing of legendary bassist Hugh Hopper. Just as he did in the 1970's when Hopper left Soft Machine to pursue a solo career and other musical opportunities, veteran bassist Roy Babbington (ex-Nucleus & Keith Tippett Group) has once again stepped into the fold and taken over the bass role, and alongside guitarist John Etheridge, drummer John Marshall, and reed player Theo Travis, the band not only keep the spirit of the original Soft Machine alive, but take their music into this new decade quite nicely. And, it remains a fitting tribute not only to the recently deceased Hopper, but also to Elton Dean as well, who passed away a few years back...
more
Though much of this live album contains new material from the current line-up, a few nods to the past are here, such as the moody Karl Jenkins composition "Song of Aeolus", complete with fiery liquid guitar lines from Etheridge, and a few of his others like the raucous jazz-fusion burner "Gesolreut" and his classic, smoldering cut "The Nodder". The band even launches into Hopper's "Facelift", and it's given a dark, almost doomy flavor thanks to some haunting sax from Travis, bubbling bass from Babbington, and Etheridge's stabbing guitar lines. The new tracks from the band are quite good as well, and perhaps a tad more atmospheric and experimental, like the chilling "Has Riff", the brooding "Last Day", and the two upbeat jazz-rockers by Etheridge, "Grapehound" and "In the Back Room". Nice to hear the guitarist really ripping it up here, showing that he's a player of formidable skills. Marshall's drum work also cannot be overlooked-just check out his delicate yet busy stick work on "Grapehound" while Etheridge is blazing away over the top on the guitar. Very impressive.
Four very talented players, nine very engaging tunes, all make for a highly enjoyable album from Soft Machine Legacy.Throw in some excellent cover artwork by MoonJune Executive Producer Leonardo Pavkovic (I almost thought I was looking at a classic Yes/Saga album cover hybrid) and you have one highly recommended CD for jazz-fusion and prog fans alike.
less
review : abstractlogix.com
On their rousing new live disc for MoonJune (recorded during the European tour in October of 2009), Live Adventures, SML covers more vintage Soft Machine repertoire than on previous releases, yet reinvigorates the tunes by means of fresh arrangements and expansive, protean improvisation. Soft Machine partisans will rejoice at the inclusion of such repertory gems as "Gesolreut"...
more
in which the band lays bare the funky heart of its signature elliptical ostinato with steaming soli and propulsive grooves; "As If", an oblique rereading of the Mike Ratledge piece marked by spectral guitar shadings and Travis's shakuhachi-like flute etchings; and the stirring, elegiac "Song of Aeolus". And fittingly, the band pays heartfelt tribute to the dearly departed Hugh Hopper with a rendition of his iconic "Facelift", artfully investigating the intricate twists and turns of its singular long-form melody. This is no potted history of Soft Machine, but a living, breathing music. With Live Adventures, Soft Machine Legacy makes a forceful case that the music of Soft Machine is as relevant and ripe with possibility today as it was in the band's heyday. Longtime fans and new converts alike can take heart in the knowledge that the Soft Machine family tree, with its deep roots in the musical revolution of the '60s, continues to sprout new limbs in the new century and shows no signs of slowing. The legacy is in very good hands indeed.
less
read full review/play clips at
abstractlogix.com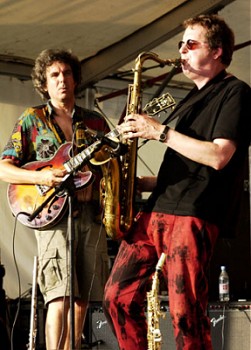 '
STEAM
'
footloose
the steamer
the big man
chloe and the pirates
in the back room
the last day
firefly
so english
dave acto
anything to anywhere
recorded by Jon Hiseman at the Temple Studios.
December 2006.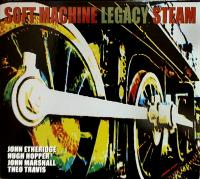 Few copies available of Steam (unavailable in UK)
Price : UK and Europe. £12.99 (inc p+p)

USA/Japan/Rest of World. £15.99 (inc p+p)

cat no : MJR016
PLAY TRACKS & BUY NOW FROM AMAZON (UK)
overseas : AMAZON.COM
see also moonjune.com
review
:
Chris Parker - vortexjazz.co.uk
A real treat, this: three ex-members of various editions of Soft Machine (guitarist John Etheridge, bassist Hugh Hopper, drummer John Marshall) plus long-time admirer Theo Travis (replacing the late great Elton Dean) letting themselves go on ten rousing jazz-rock cuts that are at once recognisably stylistically connected to the music of the original bands, but also thoroughly contemporary (chiefly courtesy of the substitution of loops and sonic processing for keyboards ­ something of a speciality for Travis, as anyone who's witnessed his various Vortex duo performances will know). -
more
The textures created by the contrast between Etheridge's spangly, powerful but delicate guitar playing and Hopper's trademark 'fuzztonics', and between Travis's reeds and flute and Marshall's muscular drumming ­ to name just two ­ are memorable and arresting; what's really impressive, though, is the infectious enthusiasm, joy and sheer energy that infuse everything the band play.
There are glances back into the 1970s (a visit to Mike Ratledge's 'Chloe & the Pirates'), but overall, as the (excellent and informative) press release claims ­ MoonJune Records is 'a one-man army represented by an Italo-Montenegrian [Leonardo Pavkovic] from New York who especially loves British music', and he writes knowledgeably and enthusiastically about everything his label produces ­ this album 'will not only appeal to fans of the 1970s Soft Machine, but to anyone who likes their fusion wide open, their jams loose and totally spontaneous, and their jazz combined with potent grooves and fiery energy'. Couldn't have put it better myself ­ warmly recommended.
less
SOFT MACHINE RELEASE
"Softs" reissue of 1970's original recordings
John Etheridge: acoustic and electric guitars;
Alan Wakeman: soprano and tenor saxophones;
Mike Ratledge: synthesizer
Karl Jenkins: piano, electric piano, minimoog synthesizer
Roy Babbington: bass guitar;
John Marshall: drums;
see allaboutjazz.com for full article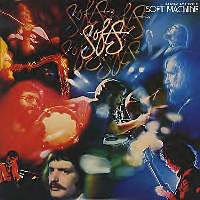 SOFT MACHINE LEGACY
"Soft Machine Legacy"
Elton Dean - soprano/alto sax, John Etheridge - el.guitar,
Hugh Hopper - el. bass, John Marshall - drums
BUY NOW FROM AMAZON
(UK only)
price : £12.99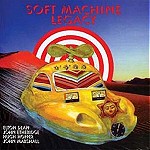 Soft Machine Legacy
"Live In Zaandam"
Elton Dean - soprano/alto sax, John Etheridge - el.guitar,
Hugh Hopper - el. bass, John Marshall - drums
price : £11.99 BUY NOW FROM AMAZON (UK only).
Overseas at MOONJUNE RECORDS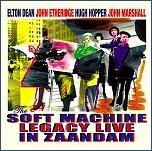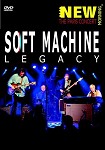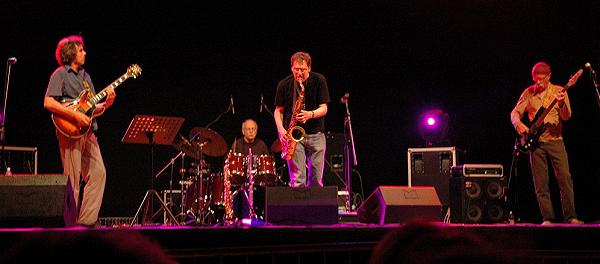 SOFT MACHINE LEGACY (l-r) John Etheridge, John Marshall, Theo Travis, Hugh Hopper. Treviso Italy. 2007 (photo by Mike Judd)
Soft Machine Legacy: New Morning--The Paris Concert
by Duncan Heining. Jazzwise Magazine
"I thought I'd feel sad seeing the late Elton Dean on this DVD but the music is all too vital and immediate for narrow emotion. From John Etheridge's opening notes on "Ash", this one cooks and burns. It was always slightly risky putting together an all-star band from the many versions of the Softs but these guys have as much claim to the legacy as pretty well any. Somehow, they join up all the dots in the group's four decade history. Hopper's "1212" feels a touch stodgy around the theme but otherwise it's on fire. There are fine versions of the bassist's lovely "King and Queens" (could actually have been longer), Dean's beautiful ballad "Baker's Treat", on the ball fuzz-bass from Hopper and some fabulous drumming from Marshall on "Sideburn" and throughout. As for Etheridge, henceforth known as "'Smokin' John Etheridge", he just keeps getting better. His duet with Marshall on "Two Down" is incandescent and on "Seven For Lee" and "Kite Runner", his playing is a joy. The flame still burns."
Soft Machine Legacy: New Morning--The Paris Concert
by John Kelman
For fans of any one of these players the DVD is essential; for those who have followed more than one, it's like manna from heaven. Dean alternates between his slightly curved cousin to the soprano sax, the saxello, alto saxophone and Fender Rhodes. What's perhaps most remarkable about Dean's performance is how he is able to bring an almost reckless abandon to even the most structured of songs.-
more
Hopper is the solid rock that keeps things focused, although he occasional leaps to the forefront with his signature fuzz tone.
Marshall perhaps the most versatile member of the quartet, having gone on to play on more rarefied ECM recordings, remains a remarkable force of nature.
The biggest surprise is Etheridge.. in the final analysis what Etheridge brings to the table is a more cosmopolitan style that incorporates a more recognizable jazz-centricity, imaginative use of effects including Frisell-like looping and a lithe and rapid-fire capability...
It's this avoidance of playing it safe that makes Soft Machine Legacy's nearly two-hour performance so engrossing.. the other thing that's clear about Soft Machine Legacy is that time has not diminished the players' ability to kick some serious butt, though they're seasoned enough to know that dynamics are what carry a show, and New Morning traverses considerable territory.
Beautifully recorded from both an audio and video standpoint, New Morning would be a significant release for fans of any Soft Machine incarnation. That these four players never actually played together as a unit in the day is irrelevant. Each one came to Soft Machine with a different background that ultimately contributed to a group that seemed to evolve in giant leaps with each record. But with Dean's untimely passing at the age of 61, this DVD and the studio release to follow - become even more important.
New Morning, The Paris Concert is a show where everyone was clearly having a lot of fun .. nothing short of completely contemporary and innovative.
John's Kelman's full length review at
-
allaboutjazz.comphp/article.php?id=22204
less
2006 CD RELEASE
THE SOFT MACHINE LEGACY
"Live In Zaandam"
featuring -
Elton Dean, John Etheridge, Hugh Hopper, John Marshall
track titles:
1. Ash . 2. One Two One Two . 3. Baker's Treat
4. Kings & Queens . 5. Two Down . 6. Big Creese
MOONJUNE RECORDS - cat: M J R 0 0 6
DMITRI EPSTEIN, LET IT ROCK (Israel)
SOFT MACHINE is a legend and an institution of British music, a band who included Robert Wyatt, Daevid Allen, Mike Ratledge, Kevin Ayers, Andy Summers (later of The Police), Hugh Hopper, Elton Dean, Roy Babbington, John Marshall, Karl Jenkins, Allan Holdsworth, John Etheridge, Percy Jones, Rick Sanders, Dave McRae and Jack Bruce among others (Jimi Hendrix briefly jammed with the band in 1968!). -
more
Since its creation in 1966, this band pioneered Progressive Rock, led the 'Canterbury' trend, pioneered jazz-rock, and then guitar-led fusion (launching the guitar god Allan Holdsworth in 1974), influenced generations of musicians. Disbanded in 1978, recreated in few occasions in 1981 and 1984, the band resurfaces in 1999 under the name of SOFT WARE (Dean, Hopper, Marshall, Tippett), having the brief blast under the name of SOFT WORKS (Hopper, Dean, Holdsworth, Marshall) between 2002 and early 2004, and assuming the final shape in the Fall of 2004 under the name of THE SOFT MACHINE LEGACY (Dean, Etheridge, Hopper, Marshall).
"Getting in and out of sight, the way SOFT MACHINE roll on seems unstoppable, not least because the band's many line-ups allow former members come together in any combination and still sound canonical. Or not so canonical, as the band that visited Zaandam on May 10th, 2005 lean more towards highly charged jazz fusion rather than progressive experimentation - judging by this limited edition concert recording which is only a part of what was played on that night. It starts elegiac, with John Etheridge and Elton Dean popping interplay of guitar and sax on "Ash", gains momentum when Hugh Hopper's bass and John Marshall's drums hit the bottom and clicks into Coltrane-esque groove on a new Hopper's tune, "1212". Yet the groove and the momentum are emotional, while the rhythmic extravaganza is mostly withdrawn from here. Still, exotic ebbing and quirky patterns are retained in classic "Kings And Queens" and let loose on "Big Creese" where the instrument jolt as if to get back to the time the legacy of which this MACHINE fully live up to. Simply a must."
less
John Etheridge guitar solo
Soft Machine Legacy live - San Sebastian (27.07.08)
Soft Machine Legacy live in Paris. John Etheridge. Elton Dean. Hugh Hopper. John Marshall // photos : Fabrice Journo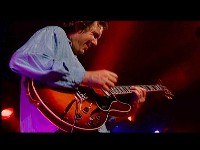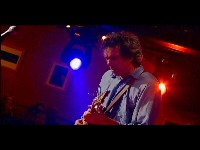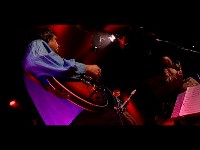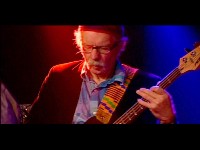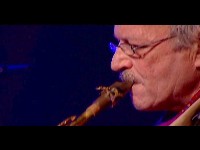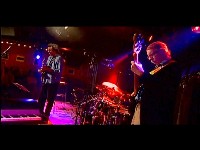 click images to enlarge
Soft Machine Legacy agent :
Geoff Amos, Triangle Creative Productions,
Croft House, Sowerby Bridge, West Yorkshire HX6 3AS England

email geoff@croft.demon.co.uk
01422 834089 direct/24hr/fax (+ 44 1422 834089 - international)
01523 166687 message pager (+ 44 1523 166687 - international)


back to top